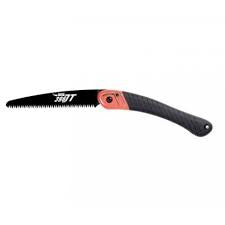 Bahco Folding Saw 396JT
The Bahco 396JT Folding Pruning Saw is an 8" pruning saw with Japanese toothing that locks in both the open and closed positions for added safety. Bi-material handle is textured and shaped for a secure grip. Aggressive Japanese toothing on the blade.  Holster available, sold separately.
The saw tooth performs three functions: 
Cutting: Teeth tips are small knives which cut through the wood fibers.  Only .2mm of the tooth tip is used for cutting.
Separating: Teeth edges are chisels that shave wood from between the cuts.
Clearing: Gullets collect dust to deposit it outside the cut.
Japanese Toothing is a triple grinding, 50 degree cutting angle tooth with long teeth and narrow gullets.  The teeth are non-set and taper down to a ground blade.  Japanese toothing generally offers a quick smooth cut and a better performance.  For more Japanese toothed saws check out our Silky Saws.   Replacement blades available.
---
We Also Recommend